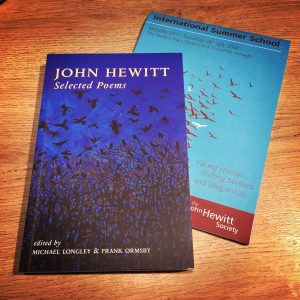 I've already announced this on social media but, in case you missed it, or if you wanted further explanation of what it all means: I have been awarded a full bursary to the John Hewitt International Summer School this year.
This summer school – based in Armagh, Northern Ireland – runs all of next week and is an intensive programme of events for writers.
There are talks, workshops, theatre shows, showcases, panels, exhibitions, and more (see table, below). I'm about as excited as I am intimidated.
The list of people taking part is impressive and, here's the best part, I'm getting it all for free! This is made possible via the bursary scheme, which offers the opportunity to people who wouldn't be able to avail of such events and teaching otherwise, and is funded in part by the Arts Council of Northern Ireland. My particular bursary sponsor is the Community Relations Council.
For my set of three creative writing workshops, I've picked studying fiction under Bernie McGill, though I'm sure I'll glean lots of things about poetry from other parts of the schedule, too. Oh, to be spoilt for choice! Already I have my reading material for the week picked out, though I'm not sure where I'll find time to read the book of poems by the man himself.  Continue reading →